Danny Pintauro, the former child actor who played Jonathon Brower on the 1980s sitcom Who's The Boss, married his partner Wil Tabares in Dana Point, California yesterday, Us Weekly reports: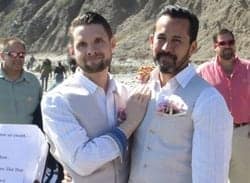 "Everything went off without a hitch," Pintauro, 38, tells Us. "The wedding was terrific and everyone was so happy to be there. We had fun!" He adds: "We went into it with no stress or worries or cares, except to have a good time." The couple wore cream-colored suits for their special day, with a matching lavender flower in place of a pocket square.
Their wedding aired via Livestream on Thursday, and will replay again from 6:30-7:30 p.m. PST tonight.
Pintauro came out of the closet in 1997.
(image via imgur)