The Arkansas Supreme Court today dismissed the appeal of Judge Chris Piazza's ruling striking down the state's gay marriage ban because it wasn't a final ruling. It also denied a request for an emergency stay of the ruling, the Arkansas Times reports: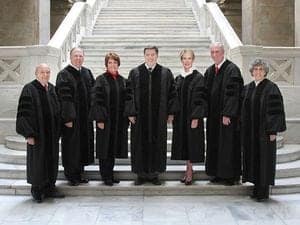 The court, however, seems to have returned the state to its old status quo — impossible for same-sex couples to obtain marriage licenses — because it notes that Piazza's ruling didn't mention another statute that prohibits clerks from issuing marriage licenses to same sex couples. Action will now shift to Piazza's court to pursue final orders, injunctive relief and a cleanup on the omitted statute.
Said Jack Wagoner, attorney for the plaintiffs:
We'll fix that tomorrow and be back here again…. How can order find something unconstitutional but not affect a statute that would require the clerks to do something unconstitutional?  
Justices Donald Corbin and Paul Danielson issued a separate concurrence that said the simply would have dismissed the appeal for lack of a final order and rejected the emergency stay request because the case is still before the trial court.
Read the order HERE.