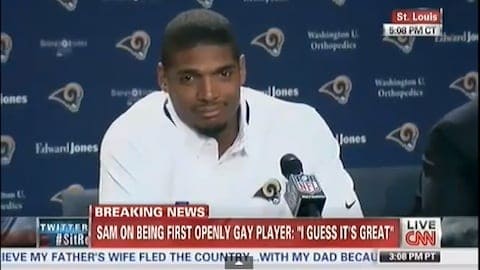 Oprah Winfrey's OWN network today announced a multi-part documentary series on the life of gay St. Louis Rams player Michael Sam. OWN is partnering with Emmy-winning producer Craig Piligian's Pilgrim Studios and Emmy-nominated filmmaker Amy Rice for "The Untitled Michael Sam Project" (working title) which spotlights the former University of Missouri football player and his historic journey as he prepares to enter the biggest professional sports league in America, according to a press release:
This special documentary series will feature a deeply personal, up-close look at the remarkable man at the center of this groundbreaking moment in professional sports, as the All-American defensive end and SEC Co-Defensive Player of the Year enters the competitive world of professional football.  Cameras will follow Sam as he works to earn his spot on the St. Louis Rams all while under the intense scrutiny of being the first openly gay player in the NFL.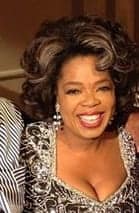 Said Oprah: "We are honored that Michael is trusting us with his private journey in this moment that has not only made history but will shape it foreve. I am proud of the focus on authentic storytelling in our new documentary series format.  The next real-life story we follow in 'The Untitled Michael Sam Project' promises to spark valuable, important discussion on life in America today.  Acceptance and illumination start here."
Sam added: "Like every player out there working to make a team right now, my focus is on playing football to the very best of my ability. I am determined. And if seeing my story helps somebody else accept who they are and to go for their dreams too, that's great.  I am thankful to Oprah for her support and excited to work together."
 "The Untitled Michael Sam Project" is produced with OWN by Pilgrim Studios and is executive produced by Craig Piligian, Nicholas Caprio and Johnny Gould.  Amy Rice, Ralph Wikke and Mitch Rosa are co-executive producers.  Cameron Weiss, Joe Barkett and Howard Bragman are producers.