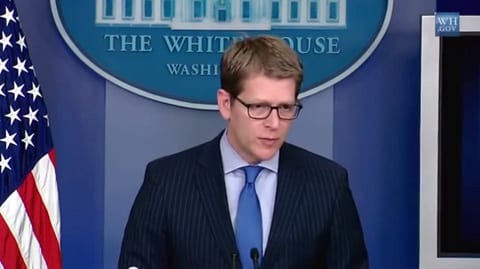 In ani interview on Wednesday with the HuffPost, Vice President Joe Biden said he didn't see any downside in the President issuing an executive order  on LGBT workplace discrimination but said that the White House still prefers the matter be handled legislatively, by passing ENDA.
White House Press Secretary Jay Carney was asked about that statement yesterday.
Here is the transcript, via the White House:
Q    The Vice President said yesterday that he doesn't see any downside to the President taking executive action on LGBT workplace discrimination.  Does the President agree?
MR. CARNEY:  Well, I think the complete statement was that what we're focused on — the big accomplishment, which would be passage by both houses of Congress and the signing into law by the President of the Employment Non-Discrimination Act.
I think it's — points have been made, and I think in response to something I said earlier, that it's clear that executive orders aren't necessarily completely overlapping with what would be achieved by legislation.  I think there's no doubt that the legislation would be a far greater accomplishment and more broadly applied.  And that is why we continue to push the House to follow the Senate's lead and pass that, because those who oppose it, I hope — at least their children — will regret the reasons they put forward for opposing it, because they sound a lot like the reasons opponents argued against civil rights legislation in the past.  And they were wrong there.  They're wrong now.
So I don't have any updates on suggested or proposed executive orders.  What I can tell you is that we still call on Congress, the House, to follow the Senate's lead and pass the Employment Non-Discrimination Act.
Q    What is there a reluctance to do something on the executive order when it could complement this broader push that you guys really want?
MR. CARNEY:  Again, I just don't engage in discussion about speculative executive orders.  When the President decides to take action using his administrative authority, some —
Q    But the Vice President speculated.  He said that he didn't see any downside.
MR. CARNEY:  No, I think he answered a question about it, as I have repeatedly.   And I'm happy to.  I think this is an incredibly important issue, and I think it is remarkable how much progress has been made and remarkable that there is still resistance to the progress that remains to be made.  That's certainly the President's view.
I just don't — I try not to engage in speculation about any executive action the President may or may not take.  What I can tell you is that there is legislation on Capitol Hill that we strongly support and would like to see passed by the House.  Thank you all very much.
In March, 195 lawmakers, all Dems, signed a letter urging Obama to issue the executive order.