After a short delay, the southeast Asian nation of Brunei will today begin implementation of a sharia law penal code which includes stoning to death any person convicted of sodomy and other sexually related offenses.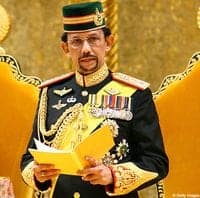 The United Nations human rights office … voiced deep concern about the revised penal code in Brunei Darussalam which stipulates the death penalty for numerous offences, including robbery, adultery, and insult or defamation of the Prophet Mohammed, and introduces stoning to death as the specific method of execution for crimes of a sexual nature.
Rape, adultery, sodomy, extramarital sexual relations for Muslims, insulting any verses of the Quran and Hadith, blasphemy, declaring oneself a prophet or non-Muslim, and murder are the other offences for which the death penalty could be applied under the revised code…
Al Jazeera reports:
"Today… I place my faith in and am grateful to God the almighty to announce that tomorrow, Thursday May 1, will see the enforcement of sharia law phase one, to be followed by the other phases," Sultan Hassanal Bolkiah said.
Islamic law penalties would be introduced over time and would eventually include flogging, amputation and death by stoning for various crimes.
Many members of the Muslim ethnic Malay majority have voiced cautious support for the changes. However, non-Muslim citizens led a rare burst of criticism on social media earlier this year, but largely went silent after the sultan called for a halt.
"Theory states that God's law is harsh and unfair, but God himself has said that his law is indeed fair," the sultan said.
News of the law has caused a boycott of the Beverly Hills Hotel, owned by the Sultan of Brunei, which many high-profile celebrities including Sharon Osbourne and Ellen DeGeneres have joined in recent days.