BY LISA KEEN / Keen News Service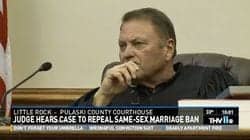 ARKANSAS GOES DOWN:
A county circuit court judge in Arkansas on Friday ruled that the state's ban on same-sex marriage violates the equal protection clause of the U.S. Constitution and does not "advance any conceivable legitimate state interest necessary to support even a rational basis review." Wright v. Arkansas was filed on behalf of 20 same-sex couples –some who sought to marry in Arkansas and some who sought to have their out-of-state marriages recognized there. Judge Chris Piazza noted that the Arkansas Supreme Court struck down the state's law prohibiting private consensual sodomy one hear before the U.S. Supreme Court did so. And, he concluded, "It has been over forty years since Mildred Loving was given the right to marry the person of her choice. The hatred and fears have long since vanished and she and her husband lived full lives together; so it will be for the same-sex couples. It is time to let that beacon of freedom shine brighter on all our brothers and sisters. We will be stronger for it."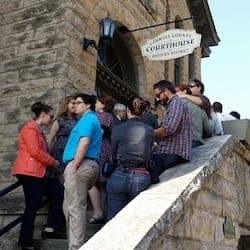 FIRST MARRIAGES IN ARKANSAS:
Because Judge Chris Piazza did not put a stay on his May 9 decision, same-sex couples began applying Saturday morning for marriage licenses. The first was granted in Eureka Springs to a young lesbian couple. The Arkansas Democrat-Gazette reported couples from as far away as Texas and Oklahoma drove to Eureka to get married. It estimated 100 people were lined up when the office opened at 9 Saturday morning. The state's attorney general, although he has said he supports the right of same-sex couples to marry, has indicated he will defend the laws on appeal and ask for a stay.
SCORECARD ON VICTORIES:
Not counting Arkansas yet, there are currently 17 states and the District of Columbia with laws that provide for marriage equality. Another nine states have had courts strike down their laws banning same-sex marriage. Eight of the nine are on appeal before federal appeals courts. Only cases for two states have been argued at the appeals level –both before the Tenth Circuit. Tomorrow, a case from Virginia will be argued before the Fourth Circuit. A case from a 10th state, Hawaii, is still pending before the Ninth Circuit which has asked for briefs by early June on why the case should not be considered moot. Hawaii's legislature passed a bill last year, eliminating its ban on same-sex marriages.
OHIO APPEALS AS EXPECTED:
The Ohio attorney general filed a notice of appeal Friday with the Sixth Circuit U.S. Court of Appeals, asking the court to overturn a district court decision that ordered Ohio to recognize marriage licenses for same-sex couples from other states.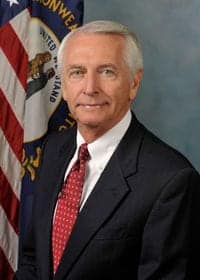 DIFFERENTLY SITUATED:
The Kentucky governor filed a brief May 7, asking the Sixth Circuit U.S. Court of Appeals to reverse a district court's ruling that struck down the state's ban on same-sex marriage. In the brief for in Bourke v. Beshear, Kentucky argues that same-sex couples who want to marry are not "similarly situated" as man-woman couples who want to marry, but are "materially different."
ST. LOUIS DRAFTS MICHAEL SAM:
Openly gay college football star Michael Sam became the first openly gay pro football player Saturday when the St. Louis Rams chose him in the last round of picks. Sam chose to come out at one of the most vulnerable times in his career –just as he was finishing up his stint at the University of Missouri and just before the National Football League's annual draft. NBC News noted that, by staying in Missouri, Sam's new team "ensured that he'll be in front of a supportive fan base."
© copyright 2014 by Keen News Service. All rights reserved.