Concerned that they would seek asylum upon arrival, Canada has denied visas for 10 Ugandan gay activists hoping to attend the World Pride human rights conference in June, the Star reports: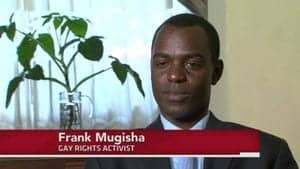 Gay rights advocates say the decisions by the Canadian visa posts in Nairobi and London speak to the hypocrisy of the Stephen Harper government, which, in February, joined other Western nations in condemning Uganda for passing one of the world's harshest anti-homosexuality laws.
"We are shocked and appalled. These individuals from Uganda are some of the most courageous heroes," said Andrea Houston of #ENDhatelaws, a coalition founded in response to homophobia/transphobia across the globe, amid the controversy over anti-gay laws passed in Russia prior to the Winter Olympics.
"They are here to share their stories and have every intention to go home after the conference, because they all have work to do in Uganda. The assumption is they are here to claim asylum. The question is: Why can't they, coming from the most hostile place in the world to LGBTQ people?"
The visa denials began in April.
Well-known Ugandan activist Frank Mugisha is the only one who will come to the conference, and has a multi-entry visa according to the paper.
A review of the visa decisions showed the Ugandan's applications were rejected for a combination of reasons: lack of travel history, family ties in Canada and in Uganda, and insufficient funds for the trip.
In eight of the applications, officials concluded they did not believe the applicants had a legitimate business purpose in Canada. In six, the officers said the applicants did not have the money to "carry out your stated purpose in going to Canada or to maintain yourself while in Canada and to effect your departure."