John Fennell, who competed for Canada in luge at the 1014 Witner Olympics in Sochi, has come out as gay in an interview with the Calgary Herald: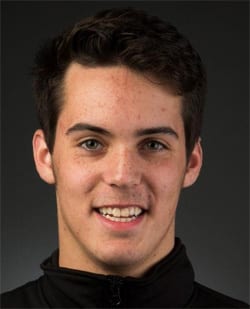 No more secrets. No more changing pronouns in conversations about personal relationships. No more fretting over perceived cracks in the story.
"It's suffocating," Fennell says of life inside the proverbial closet, even in the year 2014. "You have to play this game of, 'who knows?' You can't let off any vibes or secrets. You have to act super macho. You have to be hyper aware of your mannerisms and to not let off any vibes that could get detected. It's very exhausting.
"It's an all-consuming paranoia of who could find out through what means."
Fennell said he felt "isolated and alone" going into Sochi, which is part of what prompted his coming out, which he did while he was there:
"I was a little distraught over the lack of leadership going into Sochi," he says of competing in country with laws forbidding "propaganda" of homosexuality to minors. "There were a few out girls, but to my knowledge there weren't any out guys, and I know they're there.
"I'm an athlete. Realistically, I put on a spandex suit and slide down a mountain. I'm no message board for political movements. But we need to have leaders in our sport community. If it takes a 19 year old to step up and to that, I'm more than willing to use my voice or the platform that I've been given to give a figurehead to gay youth in sport."
Fennell, who said he was a "basket case" going into Russia, met with out Olympian Mark Tewksbury, who mentored him and inspired Fennell to find the courage to come out to his team while he was in Russia, and to his family when he got home.
 "You know that feeling when you're falling asleep and you have that feeling that you're falling, and you hit the ground, and you're suddenly awake?" Fennell asks. "Well, that's what it was like for me. I was totally, fully conscious all at once. A whole new aspect of myself opened up and it's very liberating."
Read the full article at the Calgary Herald…