American Idol runner-up Clay Aiken has won the hotly contested Democratic primary in for the 2nd Congressional District seat in North Carolina, the AP reports: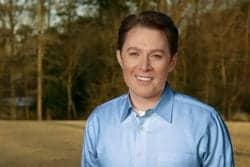 Aiken will face Republican incumbent Renee Ellmers in November in the GOP-leaning district where Mitt Romney won nearly six in 10 votes in 2012. Ellmers won by 56 percent that year and is looking for a third term. The county-by-county tally of the 2nd Congressional District race posted by the state Tuesday confirmed Aiken got more than 40 percent of the vote needed to win the three-candidate race.
Aiken suspended his campaign Monday following news that second-place finisher Keith Crisco, 71, died suddenly after falling at his home.