Earlier this week we reported that the Human Rights Campaign had sent a letter to the Vatican requesting an audience with the Pope on behalf of nine teachers who have lost their jobs at Catholic schools for being LGBT or supporting an LGBT person.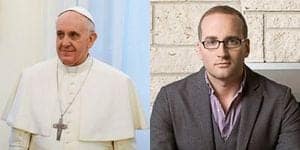 The activist group Queer Nation sent out a press release yesterday calling HRC out for hypocrisy on the issue of religious discrimination because it is pushing for passage of the Employment Non-Discrimination Act (ENDA) which contains a terrible religious exemption.
Here's the full release from Queer Nation:
At the same time it is criticizing Roman Catholic schools for their anti-LGBT discrimination, the Human Rights Campaign (HRC) is lobbying in Congress for the Employment Non-Discrimination Act (ENDA) that has a religious exemption that would allow that discrimination under federal law.
"All discrimination is immoral and HRC is right to object to what these schools are doing," said Ken Kidd, a member of Queer Nation. "So why is HRC spending millions in Congress to promote ENDA when that legislation has a religious exemption that will let Roman Catholic schools and other religiously-affiliated institutions fire LGBT people and perhaps even pro-LGBT people?"
In a May 27 press release announcing it had delivered a letter to the Vatican on behalf of nine Roman Catholic school teachers who were fired from their jobs for being LGBT or pro-LGBT, HRC called such discrimination "draconian laws" that are "designed to force LGBT people back into the closet and silence straight allies."
HRC noted that the firings were part of "a frightening trend" at Roman Catholic schools across America of including teacher contract clauses that bar LGBT people and pro-LGBT activities by teachers at these schools. In April, HRC collected over 30,000 signatures in a petition asking the Archdiocese of Cincinnati to remove the clause from its teacher contract, the press release noted.
"HRC can't have it both ways," Kidd said. "It can't criticize Roman Catholic schools for discriminating against LGBT Americans and then seek to make that discrimination legal under federal law. ENDA is a lousy bill and it should be scrapped. What the LGBT community needs is comprehensive federal civil rights legislation."
Queer Nation has been campaigning for a comprehensive federal civil rights law that bans discrimination in employment, housing, public accommodations, education, and federally-funded programs. The direct action group is using the hashtags #deadenda and #endaisnotequal.
ENDA's religious exemption is expansive and goes beyond the more limited exemption in the Civil Rights Act of 1964. Five leading LGBT legal groups are not supporting the current version of ENDA, which only bans employment discrimination, because of its religious exemption. Lorri Jean, the head of the LA Gay & Lesbian Center, recently said that the exemption must be removed.
Matt Foreman, the former head of the National Gay & Lesbian Task Force, and Cathy Marino-Thomas, the former board chair of Marriage Equality USA, have opposed ENDA and called for comprehensive federal civil rights legislation.