Advocates have long suggested that a discharge petition, used when a committee leader refuses to bring a measure up for consideration, is the only way to move ENDA forward in the House of Representatives, but at least one GOP sponsor says that won't be happening, the Washington Blade reports: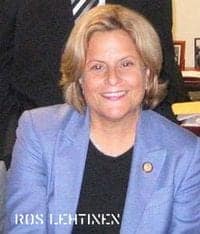 Rep. Ileana Ros-Lehtinen (R-Fla.), an original co-sponsor of ENDA in the U.S. House, said through a spokesperson that she would not sign a discharge petition to force House leadership to move the bill to the floor.
"Rep. Ros-Lehtinen will not be signing a discharge petition as it is a partisan political tool," said Keith Fernandez, a Ros-Lehtinen spokesperson.
The Washington Blade reached out to all seven Republican co-sponsors of ENDA in the U.S. House to ask whether they'd be willing to sign a discharge petition, but Ros-Lehtinen's office was the only one that responded. In addition to Ros-Lehtinen, the Republican co-sponsors are Reps. Richard Hanna (N.Y.), Charlie Dent (Pa.), Jon Runyan (N.J.), Michael Grimm (N.Y.), Michael Coffman (Colo.) and Chris Gibson (N.Y.).
ENDA discussion picked up this week after Vice President Joe Biden told the Huffington Post that he sees no downside in the President signing an executive order protecting LGBT people in the workplace.