Yesterday the Arkansas Supreme Court dismissed the appeal of Judge Chris Piazza's ruling striking down the state's gay marriage ban because it wasn't a final ruling. It also denied a request for an emergency stay of the ruling. But marriages were unable to continue because Piazza's ruling didn't mention another statute prohibiting clerks from issuing marriage licenses to same-sex couples.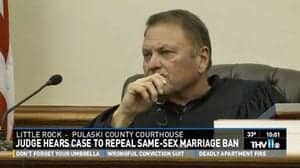 That has now been fixed, and marriages can begin again as Piazza has struck all bans, The AP reports:
A day after the state Supreme Court effectively halted gay marriages in the state, Pulaski County Judge Chris Piazza expanded his ruling striking down a constitutional ban to also include the prohibition on clerks issuing same-sex marriage licenses. Justices had ruled Wednesday that Piazza's decision on the gay marriage ban did not change that license law.
Piazza also rejected a request to suspend his ruling, saying there's no evidence the state would be harmed by allowing gay marriages to continue.
Said Piazza: "A stay would operate to further damage Arkansas families and deprive them of equal access to the rights associated with marriage status in this state."