Mark Zmuda, the Eastside Catholic High School vice principal who was told he must divorce his husband or be fired, has found a new job, KING5 reports: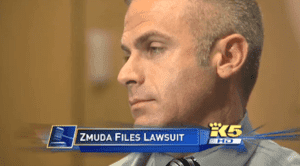 The Mercer Island School District announced that Mark Zmuda will become an associate principal at Mercer Island High School, effective July 1…
…The Mercer Island Superintendent Dr. Gary Plano will recommend that Zmuda is confirmed as associate principal. According to a release from the district, Zmuda was chosen from more than 60 applicants for the position.

"Mark impressed me with his knowledge of best-instructional practices, his integrity and work ethic and his commitment to the success of all students," Dr. Plano said in a release.

Zmuda will also serve as the school's athletic director.
Zmuda's firing inspired major protests from students and faculty at Eastside Catholic and caused Sister Mary Tracy to resign.
Zmuda is now suing the school.