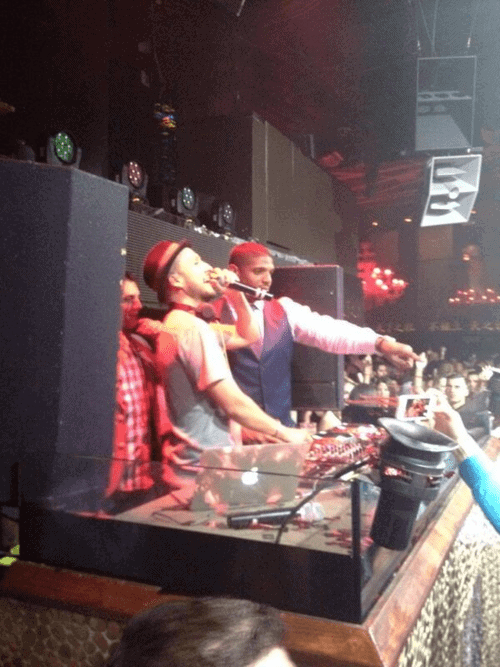 (twitter mrsjones_nyc)
St. Louis Ram Michael Sam and his boyfriend partied in Vegas at the Venetian following the NFL draft, the Las Vegas Sun reports:
Boyfriend Vito Cammisano, who swam competitively for the University of Missouri, joined Sam, a defensive end from the college who was drafted by the St. Louis Rams in the seventh round Saturday and was congratulated by President Obama.
A group of 10, including Sam's agent and friends, were on hand as Sam was surprised with a presentation from Tao and a shout-out from DJ Vice. Sam spotted Richard Sherman of the Super Bowl champion Seattle Seahawks at a nearby table, and the two athletes chatted for a few minutes.
Sam and Cammisano later headed to the DJ booth, where Vice stopped the music to introduce and congratulate the newly signed pro.
More photos at The Sun…
Wow.What a day. On cloud 9. So proud and happy! #stl #rams #draft @MikeSamFootball pic.twitter.com/XXG1tngGhq

— Vito (@Vitcamm) May 11, 2014
The NY Daily News has more on Cammisano:
Cammisano, a communications major, came out to fellow swimmers in 2011, Mizzou's student newspaper reported.
"He's been a pleasant, pleasant boy all his life," Cammisano's aunt, Cathy Nigro, said of her nephew.
"I was very proud of them both," Nigro said of the kiss. "I think the whole family is."
Nigro said she's met Sam, liked him very much and called him "a great athlete."
Cammisano's Facebook page says he attended Rockhurst High School in Kansas City, Mo., and worked as an assistant in the University of Missouri's office of disability services. It says he works as an intern at a large radio station operator.
With @nyc_jones @taolasvegas @djvice #MichaelSam celebrating the good news in Vegas congrats @MikeSamFootball pic.twitter.com/XwlsB6F1jf

— mrsjones_nyc (@mrsjones_nyc) May 11, 2014