U.S. Secretary of the Interior Sally Jewell is announcing an initiative to identify historic LGBT heritage sites at an event on Friday morning at the Stonewall Inn in NYC, the AP reports: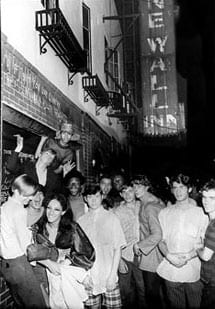 Interior Secretary Sally Jewell is convening a panel of 18 scholars next month that will be charged with exploring the LGBT movement's story in areas such as law, religion, media, civil rights and the arts. The committee will identify relevant sites and its work will be used to evaluate them for inclusion on the National Register of Historic Places, designation as National Historic Landmarks, or consideration as national monuments, Park Service Director Jonathan Jarvis said.
"The Park Service is, in my view, America's storyteller through place," Jarvis said "It's important that the places we recognize represent the full complement of the American experience."
The process mirrors efforts the service already has undertaken to preserve and promote locations that reflect the roles of Latinos, Asian-Americans and women in U.S. history.
On hand at the event will be City Councilman Corey Johnson, and philanthropist Tim Gill, whose Gill Foundation is financing the initiative with a $250,000 grant.
Said Gill to the AP: "While we take this important step to recognize the courageous contributions of LGBT Americans, we need to unite together in the days ahead to ensure we leave none of our fellow Americans behind."