U.S. District Judge Michael McShane has announced that he has made a decision in the constitutional challenge to Oregon's ban on same-sex marriage. He'll publish his ruling at noon tomorrow.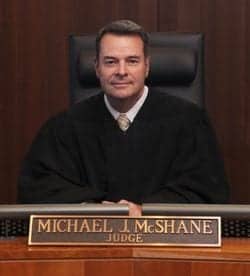 KGW reports:
If the ban is overturned, Oregon officials said the state is "ready to go" on issuing new same-sex marriage licenses.

A crowd of advocates is planning to gather at the Oregon United for Marriage Headquarters at 727 NE 24th Ave. at 11:30 a.m. to hear the judge's decision, said Peter Zuckerman, spokesman for OUM. Others are preparing to marry or renew their vows, depending on the outcome of the ruling. 
Last week, McShane denied efforts by the National Organization for Marriage to intervene in the federal challenge to the state's gay marriage ban. The state's Democratic Attorney General Ellen Rosenblum has publicy stated that the ban does not possess a "rational basis" and will not support it. 
Gay couples in Oregon could get married immediately after McShane's ruling tomorrow. Multnomah and Clackamas Counties are already prepared to issue marriage licenses to same-sex couples.
Stay tuned.