When an April 30 profile in a local news-magazine outed lesbian Colleen Simon (pictured left) by mentioning her lesbian wife (pictured right), the Catholic Diocese of Kansas City-St. Joseph asked Simon to resign as their social ministries coordinator. But Simon has refused and continued her work in St. Francis Xavier Church's food pantry.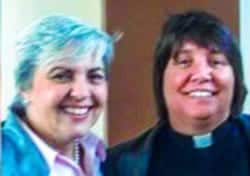 The Kansas City Star reports:
Simon's work as coordinator of social ministries was profiled April 30 in The Star's 816 news-magazine. The article highlighted Troost Avenue — its history and the many interesting people dedicated to its vibrancy today.
Colleen Simon and her wife, the Rev. Donna Simon of St. Mark Hope and Peace Lutheran Church, were mentioned deep in the story, along with the fact that they are a married couple.
The freelance writer didn't intend to out the couple. They bear no grudge to her, nor to the priest currently serving St. Francis. The Simons have never hidden their marriage (in Iowa on May 19, 2012).
Rather, Colleen Simon kept a don't-ask, don't-flaunt attitude. She said she told the pastor who hired her in July 2013 (he is no longer at the parish) of her marriage. But day to day, she avoided pronouns that would highlight it, substituting "my spouse" or "my beloved."
"You don't want your legacy to be one of division and ugliness," she said. "It's awful. But there are laws, and until that law gets changed in the church, it is what it is."
The 58-year-old Simon has reportedly refused to resign and will not leave her position until the Diocese fires her. She maintains that her decision is pragmatic, since she is a three-year survivor of Hodgkin's lymphoma with many unpaid medical bills. As an older adult, she worries she won't be able to find a new job very quickly.