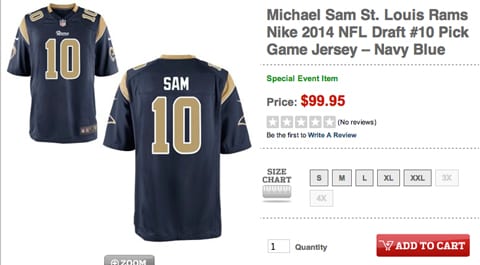 Do you want a $99.95 Michael Sam St. Louis Rams football jersey to commemorate the historic first openly gay player ever to be drafted into the NFL? Of course you do… and so does everybody else:
The uniform of Michael Sam, the league's first openly gay player, is the No. 2 seller from the NFL draft, according to NFLShop.com.
The top-selling uniform belongs to Johnny Manziel, the quarterback taken in the first round by the Cleveland Browns. The league's online shop did not release the number of jerseys sold, only the rankings. But it did say this was the biggest draft weekend for sales in the site's history.
Manziel, who was drafted by Cleveland, had an advantage in terms of uniform sales since he was taken on Thursday night. Jerseys from quarterbacks are typically more popular than those of defensive players like Sam.
Sam, who was a seventh-round pick by St. Louis, wasn't selected until Saturday night. But his fame and personal story has already sparked more sales than two other high-profile quarterbacks taken in the first round Thursday — Teddy Bridgewater, who was drafted by Minnesota, and Blake Bortles, the first quarterback drafted when he was picked No. 3 overall by Jacksonville.
Sam's uniforms have also outsold those of Jadeveon Clowney, the No. 1 pick overall who was drafted by Houston.
So much for that anti-gay blowhard lobbyist who promised a boycott against the team that drafted Sam — behold the power of the pink dollar!