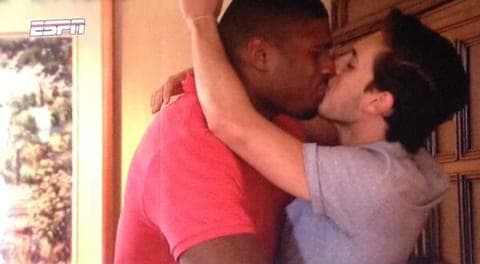 Looks like the celebratory kiss between openly gay NFL player Michael Sam and his boyfriend Vito Cammisano didn't just upset a lot more people than just Donald Trump, Peter LaBarbera, Amy Kushnir, Don Jones II and Derrick Ward.
According to a recent poll of 1,000 American adults, although many people support an openly gay player in pro sports teams, a plurality found it "inappropriate for networks broadcasting the draft to show this kiss."
HuffPo breaks down the stats:
According to the new poll, 60 percent of Americans said they would approve of their favorite sports team signing an openly gay player, while 20 percent said they would disapprove. Among NFL fans in particular, 65 percent said they would approve and 21 percent said they would disapprove. Forty-four percent of Americans, and 47 percent of NFL fans, said they would strongly approve…
But although most Americans approve of gay players in theory, many are less comfortable with the reality. Male athletes kissing their wives or girlfriends is routine territory for networks covering victory and other sporting celebrations, but coverage of Sam's kissing his boyfriend after he was drafted has generated controversy. Forty-seven percent in the new poll said it was "inappropriate" for networks to show the kiss, while only 36 percent said it was "appropriate." Seventeen percent said they weren't sure.
Seems that writer Michelangelo Signorile was dead on when he said earlier this week, "A lot of people who consider themselves pro-gay probably are uneasy about seeing gays kissing, just like a lot of people who in the past said they supported interracial marriage were probably uneasy when they saw two straight people of different races kissing."
Despite the reaction, media figures are still  aware of the groundbreaking significance of the Sam-Cammisano kiss. CNN called it a TV watershed movement as the television's first unscripted gay kiss.