John Abdallah Wambere — a prominent 41-year-old Ugandan activist — has applied for asylum in the U.S.. He appeared in the documentaries Call Me Kuchu and Missionaries of Hate and has worked for 14-years with Spectrum Uganda, a group working to "ensure the safety of [Uganda's] LGBTI community, reduce stigma, assist LGBTI Ugandans under arrest, and educate about HIV."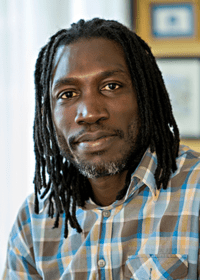 Wambere arrived from Uganda on February 21, three days before Ugandan President Yoweri Museveni signed off on his country's new law punishing gay sex and the "promotion of homosexuality" with life imprisonment.
Wambere said:
"This has been a very, very difficult decision for me… I have devoted my life to working for LGBTI people in Uganda, and it gives me great pain not to be with my community, allies, and friends while they are under increasing attack. But in my heart, I know it is my only option, and that I would be of no use to my community in jail."
Michael K. Lavers of The Washington Blade summarized Wambere's affidavit thus:
Wambere in his asylum petition notes he has been threatened, evicted from his home and publicly outed as a gay man in several Ugandan newspapers (since 2005). He told reporters that he has also received anonymous death threats, been rejected by his family members, lost business and was unable to visit is 16-year-old daughter's school because of his sexual orientation.
He says that several men attacked him in 2009 as he left a bar in Kampala, the Ugandan capital. Wambere notes he has been "repeatedly arrested for violation" of the Ugandan penal code that criminalizes "carnal acts against the order of nature, including homosexual behavior."
He told reporters that several of his friends and colleagues have been kidnapped or arrested since Museveni signed the Anti-Homosexuality Bill into law… (and also) said other LGBT Ugandans have either gone into hiding or left the country.
Lavers adds that Wambere "is believed to be the first Ugandan LGBT rights advocate to seek asylum in the U.S. since the measure took effect in February."
In a statement, Allison Wright — a staff attorney for Gay & Lesbian Advocates & Defenders (GLAD) — said:
"The United States can do two very important things. We can provide a safer harbor where brave Ugandan LGBT individuals can continue to speak out and work for change; and we can work to stop the export of prejudice, denouncing the efforts of Americans to spread homophobia in other countries."
Call Me Kuchu — the documentary that Wambere appeared in — is about the 2011 murder of prominent gay Ugandan activist David Kato and its aftermath.