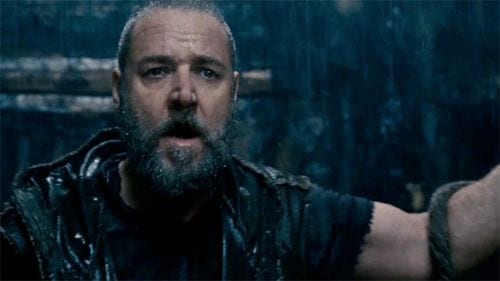 Russell Crowe took to twitter last week to defend his continued support of Brunei-owned Dorchester Hotels, despite pressure from boycotters protesting brutal sharia laws recently passed in the Southeast Asian country.
The boycott is backed by big names like Jay Leno, Ellen DeGeneres, Richard Branson (and all employees of Virgin), Stephen Fry, and Sharon Osbourne.
Crowe tweeted that his support for the hotels was not a show of support for sharia law, but rather for hotel's American employees, whom he likened to "collateral damage" in the protest.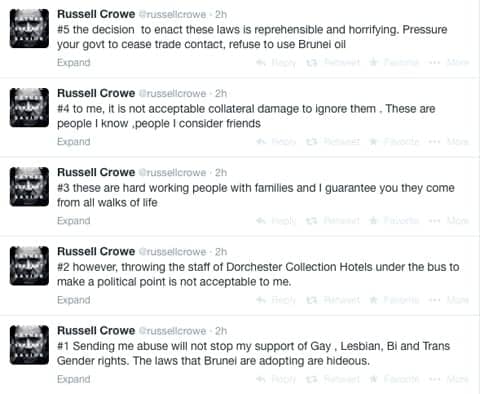 Despite Crowe's tweets, the boycott continues to grow. The New York Times reports that companies participating in fashion shows in Milan and Paris, which would usually stay at Dorchester Hotels, are going elsewhere. 
"While I am sensitive to the potential impact that this issue may have on the wonderful staff at Le Meurice, I cannot in all good conscience stay there, nor can Vogue's editors," Anna Wintour, the Vogue editor and Condé Nast artistic director, said through a spokeswoman.

In Milan, the Principe di Savoia is the hotel of choice for large swathes of the fashion community, including representatives from Calvin Klein, Salvatore Ferragamo and a number of magazines. A Condé Nast spokeswoman said that lodging choices were "left up to the individual brands, all of which have decided not to stay at Dorchester properties for the upcoming shows," as has Miguel Enamorado, the fashion director of Brant Publications' Interview. (Representatives for Calvin Klein and Salvatore Ferragamo declined to comment.)
American politicians are also voicing their disgust, not by boycotting Dorchester hotels, but by calling for Brunei to be removed from Trans-Pacific Partnership trade talks unless they "address these human rights violations."