This week's playlist includes a lot of names that you already know, (summer is a great time for pop music!) including Architecture in Helskini  who I just featured on The OXD Mirror last week. L.A.'s Goldroom has created another sunshine-filled, gorgeous remix of the Australian band's 'I Might Survive,' that thankfully maintains the original's disco appeal. Following that is Soul Clap's House Mix for pop newcomer Sam Smith's latest single, who has already been dominating airwaves with his beautiful soulful voice.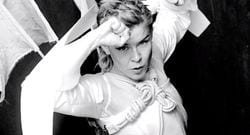 Next we have remixes by the likes of Four Tet, Isaac Christopher, and Playless for some of this summer's hottest returning pop acts like Lana Del Rey, Röyksopp & Robyn, and the newly solo La Roux. These classic house remixes are obviously very dancefloor friendly and I'd be surprised if you didn't hear them at the gay bars and clubs this summer. 
Finally, the man of the hour, MK (Marc Kinchen) lends his signature touch to Monarchy's 'Living Without You' proving yet again that almost any track he remixes is solid gold. 
OCCUPY THE DISCO (OXD) curates and recommends music events to the gay community in NYC—in an effort to move the focus of the nightlife scene beyond the promoter and venue and to the music itself. OXD's goal is to educate, entertain, engage and empower the gay audience to reclaim their ability to question and experience the unknown. The OXD Mirror will serve to showcase tunes that are definitely off-the-beaten-path but rightfully deserve the attention of the gay ear.
This week's post was written and curated by Ru Bhatt. Check out more of his music picks on his podcast, The Ru-Mix and on Made In Brazil.

Be sure to check out these tracks and more on our Spotify Playlist. For more information on OXD, check out our website and accompanying blog at www.occupythedisco.com, like us on Facebook, or follow us on Twitter: @OccupyTheDisco.