BY LISA KEEN / Keen News Service
PENNSYLVANIA IS FINAL; NO APPEAL: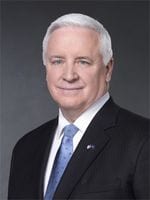 Republican Governor Tom Corbett announced Wednesday that his administration will not appeal a federal district court decision Tuesday that declared the state ban on same-sex couples marrying to be unconstitutional. Corbett had vowed in recent to defend the law, but he issued a statement May 21 saying an appeal would be "extremely unlikely to succeed." "I continue to maintain the belief that marriage is between one man and one woman," said Corbett. "My duties as Governor require that I follow the laws as interpreted by the Courts and make a judgment as to the likelihood of a successful appeal….The court has spoken, and I will ensure that my administration follows the provisions of Judge Jones' order with respect for all parties." And with that, Pennsylvania, the sixth most populous state, becomes the 19th state plus the District of Columbia with marriage equality. The marriage equality states include 44 percent of the nation's population.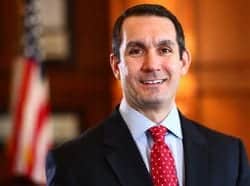 PENNSYLVANIA AUDITOR SPOKE UP:
Even before the release of the court decision declaring Pennsylvania's ban on same-sex couples marrying unconstitutional, the state's chief fiscal officer urged the governor against an appeal. Auditor General Eugene DePasquale issued a press release May 8, saying it is "unquestionably unfair" to make same-sex couples pay an estimated $1,600 more per year in state taxes because of the ban. And he said it was unwise for the state to pay as much as $400 an hour in legal fees to defend the ban against several lawsuits while the Pennsylvania budget is facing a $1 billion shortfall.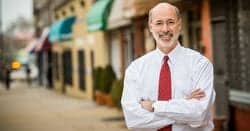 CORBETT COMPETITOR URGED NO APPEAL, TOO:
Democratic businessman Tom Wolf urged Pennsylvania Governor Tom Corbett not to appeal the federal district court decision that the state ban on same-sex couples marrying is unconstitutional. Wolf, who won Tuesday's Democratic primary with 58 percent of the vote, said he agrees with the court's decision.
NJ'S CHRISTIE REAPPOINTS CHIEF JUSTICE:
Lambda Legal and other legal groups had expressed concerns in recent months that New Jersey's Republican Governor Chris Christie might decline to reappoint the New Jersey Supreme Court's Chief Justice Stuart Rabner. Rabner wrote a critical opinion supporting the declaration that the state's ban on same-sex couples marrying to be unconstitutional. But on Wednesday, Christie announced that he will reappoint Rabner to the position and that, despite his disagreement with Rabner on some decisions, "my respect for him has never been diminished."
© 2014 Keen News Service. All rights reserved.