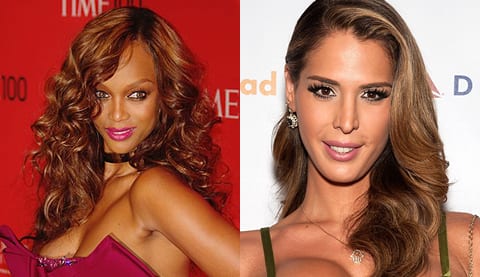 Supermodel and America's Next Top Model reality-show hostess Tyra Banks (left) will produce an eight-episode docu-series following the lives of Chicago transwomen called TransAmerica (not to be confused with Felicity Huffman's 2005 film of the same name).
The show will feature RuPaul's Drag Race veteran Carmen Carrera (pictured right) who came out as trans after Drag Race as well as appearances by other notable trans Americans like Calpernia Addams.
The Hollywood Reporter states:
The series is described as an earnest look at a group of millennial women — who happen to be transgender — living, loving and building their careers. The series will explore how their sexuality impacts their lives…
"It would be easy to focus on the transgender aspect, but this series is about so much more," said Susan Levison, executive vp programming for VH1. "This is a show about a group of compelling, gorgeous young friends who are on a unique journey while staying true to their authentic selves. We believe that message resonates."
TransAmerica marks VH1's third series to either star or prominently feature a transgender person or cast. I Want to Work for Diddy helped jump-start the career of Orange Is the New Black star Laverne Cox in 2008, with the actress earning a spinoff series – TRANSform Me — in 2010. Cox, a recent GLAAD honoree, credits VH1 for her first break. (Cox, meanwhile, is teaming with MTV and Logo for documentary the Trans Teen.)
The show is set to appear in late 2014 or early 2015.