Gay Republican Congressional candidate Carl DeMaio's San Diego office was broken into and vandalized six days before the primary, NBC San Diego reports: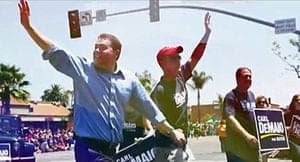 Officers arrived at the office in the 9600 block of Black Mountain Road in Miramar around 9:30 a.m. Wednesday. They discovered extensive vandalism, including smashed computer screens and cords and cables that had been cut.
"Almost every cord inside the entire office – phone cords, communications, network cords, power cords – appears to have been cut," said Dave McCulloch, the campaign's communications director.
McCulloch said someone also poured water on laptops, printers and copiers, and stole gas cards.
No suspect has been identified, but it is believed the perpetrator entered through an adjacent office.