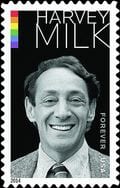 The US Postal Service's stamp honoring Harvey Milk will be unveiled today at a special ceremony at the White House at 3 pm ET this afternoon and we'll bring it to you live.
Per the White House, the event will feature remarks by U.S. Ambassador to the United Nations Samantha Power, House Democratic Leader Nancy Pelosi, Senator Tammy Baldwin, Representative John Lewis, Deputy Postmaster General Ronald A. Stroman, and other distinguished guests including the Co-Founders of the Harvey Milk Foundation, Stuart Milk and Anne Kronenberg.
Join us at 3 ET for this historic event.