In remarks delivered to Lambda Legal on Tuesday, Attorney General Eric Holder slammed the Boy Scouts of America's refusal to allow gay adults in the organization, saying the ban "perpetuates the worst kind of stereotypes."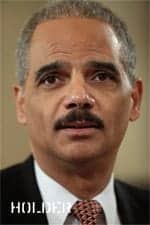 NBC News reports:
"If these men and women are fit for military service, then surely they are fit to mentor, to teach, and to serve as role models for the leaders of future generations."
Holder said the Boy Scouts of America is "an iconic American institution." But he said its policy is "a relic of an age of prejudice and insufficient understanding."
Last month, BSA President Robert Gates, who oversaw the end of the military's "Don't Ask, Don't Tell" policy in 2011, said that while he personally supports gay scoutmasters, he opposes any further attempts to address the policy now.