John Boehner has every intention of suing President Barack Obama over the President's use of executive action, according to the House Speaker.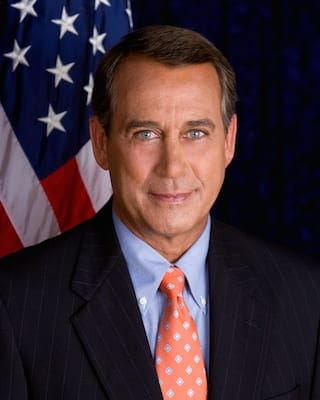 "On matters ranging from [health care] and energy to foreign policy and education, President Obama has repeatedly run an end-around on the American people and their elected legislators," Boehner stated via memo. "[He has strained] the boundaries of the solemn oath he took on Inauguration Day."
Boehner plans to bring a bill to the House floor this July in order to galvanize the filing of a lawsuit by the Bipartisan Legal Advisory Group. Conservatives claim that the President is overstepping his boundaries by working his way around legislative processes.
Despite longtime calls for the lawsuit from a number of rank and file Republicans, Boehner's lawsuit is unlikely to be filed until after Congress's upcoming week-long recess.
House Democratic Leader Nancy Pelosi Wednesday said the lawsuit is "a subterfuge" to make up for the lack of accomplishments on the Republican side, CNN reports:
Pelosi said the House GOP effort to challenge the Defense of Marriage Act in court wasted $2.3 million in taxpayer money, and said "here we go again."
Obama has used his executive authority to push through a number of issues. Most recently, he directed the Department of Labor to extend family leave to same-sex couples. Previously, he raised the minimum wage for federal contractors and halt deportations for many children in the United States illegally.
Obama has also promised to sign an EO protecting LGBT contractors from discrimination.