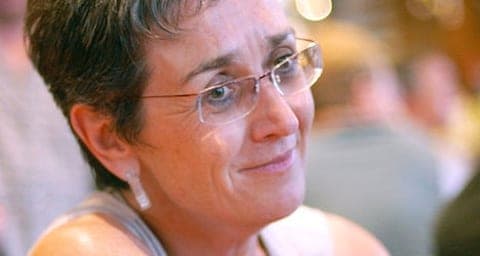 Austria's first openly gay politician, Ulrike Lunacek, was attacked with acid at Vienna's Rainbow Parade on Friday, The Local reports:
An unknown assailant sprayed butyric acid at the politician as she was giving an interview on the sidelines of the parade. Lunacek and the interview team were not injured.
The acid damaged the Greens MP's clothes and the camera equipment. According to police spokeswoman Barbara Riehs, the acid caused around €50,000 worth of damage to the electronic equipment. The attacker had not yet been found on Sunday.
Organizers said more than 150,000 people were at the parade which circumnavigates the city's historic downtown area.
Said Lunacek:
"Never before has there been an attack at the Rainbow Parade," said Lunacek at the end of the event at Vienna's City Hall. These kinds of isolated cases showed that the fight for tolerance, acceptance and respect in Austria was not over. People who spread fear and hate needed to be opposed, she added. Homosexuals and transgender people needed to combat fear and show that they were not only part of society, but at the centre of it."
Lunacek (pictured in green on the float, below) tweeted on Monday: "Commitment for equality + EU strategy gg. Homophobia continues unabated. Thank you for support!"
Engagement für Gleichstellung + EU-Strategie gg. Homophobie geht unvermindert weiter. Danke für breite Unterstützung! pic.twitter.com/mcbAvsEPFX

— Ulrike Lunacek (@UlrikeLunacek) June 16, 2014