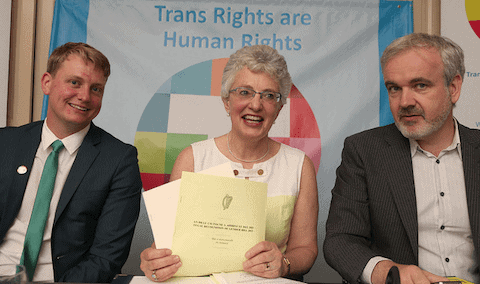 Broden Giambrone with Irish Human Rights Commission member Senator Katherine Zappone, and executive director of Amnesty International Ireland Colm O'Gorman
A report by Transgender Equality Network Ireland aims to improve the reporting of hate crimes against trans people in the country.
Launched by the University Of Limerick (UL), the Stop Transphobia and Discrimination report documents 32 hate incidents against trans people in 2013, fifteen of which have been designated hate crimes.
Co-director of the Hate and Hostility research group at UL Jennifer Schweppe said that Ireland is being pressured to introduce legislation which targets hate motivated violence.
According to TENI's Chief Executive Broden Giambrone, "there is no doubt that Irish society is changing but the violence and discrimination the trans community faces must stop. To change the way that trans people are treated we need to understand the full extent of the problem and look for viable solutions."
Read the full report, AFTER THE JUMP…