Italy's government will begin debate on civil unions in September, Prime Minister Matteo Renzi announced on Tuesday, according to The Local: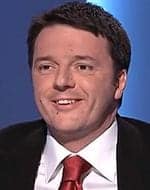 Renzi was quoted in La Repubblica on Tuesday saying "gay rights will be the same as those for married heterosexual couples."
In a move the newspaper described as the "rainbow revolution", gay couples could be entitled to benefits including inheritance guarantees, welfare assistance and be able to claim a deceased partner's pension.
The marriages of gay couples who wed abroad would also be officially registered.
The proposals have been inspired by both the UK and Germany's civil partnership model, the newspaper said.
However, the Italian model will likely differ when it comes to adoption: a partner will only be able to adopt the child of the natural parent in the union should he or she die.
For a look at some of the Italian LGBT activists who have been driving this debate so far check out David Mixner's recent piece from his trip to Italy.