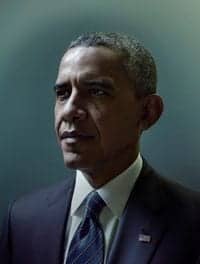 President Obama plans to sign an executive order protecting LGBT employees of federal contractors from discrimination.
A White House official has told Towleroad that the President has directed his staff to prepare the Order, which would build upon existing protections prohibiting federal contractors from discriminating  on the basis of race, color, religion, sex, or national origin.
The official cites the House's failure to act on ENDA as impetus for the order. Last year the Employment Non-Discrimination Act passed the Senate with bipartisan support but it has languished in the House, faced with Speaker John Boehner who has said there is no way he would bring it to a vote.
In March, 195 Democratic lawmakers sent a letter to Obama urging him to issue the Executive Order.
Said National Gay and Lesbian Task Force Executive Director Rea Carey in a statement sent via email:
"This is a major step forward in the struggle for freedom and justice for LGBTQ workers and their families. Now millions of people will have the economic security they need to provide for their families. Through his actions, the President has demonstrated again his commitment to ending discrimination. We thank all the organizations who have worked so hard to make this piece of history. This decision is good for LGBTQ people, good for our economy and good for America. Unfortunately, many of us who don't work for federal contractors will still lack workplace protections. Now we must redouble our efforts for the urgent passage of state employment protections and strong federal legislation."
Obama is planning a trip to NYC in the coming days for an LGBT fundraiser.