Alan LaPolice (right) is challenging incumbent Representative Tim Huelskamp in the Hutchinson, Kansas republican primary, but a film role dredged up from his past has been seen as a source of controversy for some GOP Kansans. LaPolice played what he describes as a "homophobic bigot" in the 2008 release, "The Art of Being Straight." Now, while LaPolice defends his participation in the film, the news is shifting campaign politics toward issues of sexual orientation and away from the issues he believes are most important.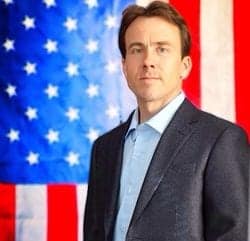 HutchNews.com reports:
"I am very concerned that a candidate for national office would be so out of touch with the deeply held beliefs of a great many Kansans," said Dennis Blick, chairman of the board for Kansas Family Policy Council, Wichita.
"KFPC believes Kansans deserve candidates of the highest integrity committed to traditional Judeo-Christian values, which have been the bedrock of rural Kansas communities for generations," Blick said in a press release Tuesday from the KFPC.
Phillip Cosby, director of the American Family Association of Kansas and Missouri, said in the release that it's "highly inappropriate" to be "featured in a homosexual movie."
While right-wing organizations are clearly hung up on the appearance itself (perhaps as some sort of endorsement), it is less clear if LaPolice fears that positive endorsement, or if his role (as a "bigot") is the problematic issue.
In an email response to The News, LaPolice wrote:
"I agree wholeheartedly that Kansans do indeed deserve a candidate of the highest integrity and I firmly believe that I offer this. I have clearly stated that anyone attempting to undermine my candidacy by fixating on a very small movie role from nearly 10 years ago would be guilty of small-minded bigotry and I hold to that. No Kansans are guilty of this.
"As I said, every Kansan I know can easily distinguish between movies and reality. I am concerned that individuals in leadership roles who claim to share my strong family values would confuse acting with advocacy," he said.
Is the "small-minded bigotry" he refers to homophobia? Was his acting advocating for gay rights/representation, or for bigotry? The message is convoluted, but LaPolice, a straight man with three children, is up front about his 45-second role in the film, and its lack of relevance to his political campaign.
"I am in no way ashamed of anything from my past. I celebrate the strength of my character and every choice I have made for better or worse has made me the man I am today." LaPolice wrote.
Photo via LaPolice's campaign website.