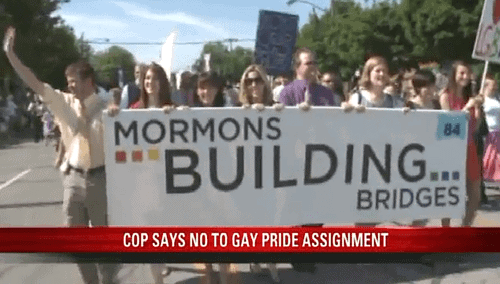 A Salt Lake City police officer who made headlines last week when his department announced he had been put on leave for refusing to work an assignment at the city's gay pride parade is claiming he did not refuse his assignment and that the department 'defamed' him and violated his constitutional rights.
The Salt Lake Tribune reports:
"He feels that the same protections that afford individuals to participate in a parade like we had yesterday, are the very constitutional protections that were not afforded to him," Bret Rawson, the officer's attorney, said Monday. […]
Rawson said the officer did not refuse his assignment — to join other motorcycle officers in choreographed maneuvers at the beginning of the parade — but instead asked his commanders for a "less conspicuous" role at the parade, such as traffic enforcement or security.
"The officer simply felt that the level of participation required in the event could be perceived as endorsing or advocating in favor of the LGBTQ community, a position which made him uncomfortable, given his personal and religious beliefs," Rawson wrote.
"He never refused to do his job," Rawson added in an interview Monday. "He specified that if he was required to do [the motorcycle assignment], he would do that. So he was very surprised that he was put on administrative leave."
Rawson said that the "media circus" surrounding the officer's leave amounts to "constructive termination," adding: "No reasonable, rational person could stay at work under these circumstances."
Citing pending litigation, a Salt Lake City spokesman said they were unable to comment on the validity of the officer's claims.
And in related news, Maggie Gallagher has also weighed in on the controversy, but not in the way you might expect.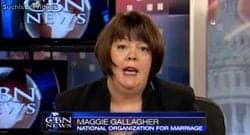 She writes:
"Religious liberty should not extend to a cop refusing to protect Gay Pride parade-goers — that is just wrong.
UPDATE: Charles Cooke and I agree. Cops need to protect everybody, including Gay Pride parade-goers."
In a second post, she adds:
He says he was willing to serve at the Gay Pride parade but didn't want to ride in front of the parade as he feared it might be interpreted as being a participant.
They could have cut the guy a break, instead of throwing the book, but the main point still stands: There's no right not to serve at parades or political gatherings you disagree with.
Hell has just frozen over folks…