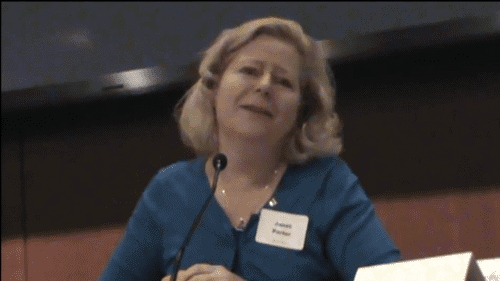 Janet Porter of Faith 2 Action—a far right social conservative activist group wants the Texas GOP's new 'ex-gay' resolution exported to the entire nation. 
The resolution, passed at the GOP convention in Fort Worth this past weekend, endorsed so-called "reparative therapy" as a "legitimate" way for Texans to escape their "homosexual lifestyle."
In her 60-second daily radio commentary, Porter said, "Don't mess with Texas."
That's the message sent to the homosexual agenda from Texas Republicans who now have an official state platform that stands for religious freedoma and the freedom to counsel people out of homosexuality, which is now illegal in California and New Jersey. The official Texas Republican platform now states, quote:

"We oppose any criminal or civil penalties against those who oppose homosexuality out of faith, conviction, or belief in traditional values. We recognize the legitimacy and value of counselling that offers reparative therapy and treatment to patients who are seeking escape from the homosexual lifestyle."

Let's hope this platform gets adopted nationwide.
As leader of Faith 2 Action, Porter is no stranger to making far out comments on the gays. In May of this year Porter warned families to skip Disney World during their "Gay Days" due to a fear of seeing "public displays of perversion". She has also previously said that homosexuality is more dangerous than smoking in a video that was removed from YouTube due to YouTube's policy of prohibiting hate speech.
Listen to Porter's radio address, AFTER THE JUMP…