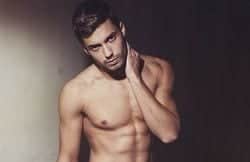 Matthieu Chartraire, the 22-year-old selected by readers of France's Têtu Magazine to be "Mister Gay May," has been caught in an online racism scandal. Chartraire aired his negative thoughts about people of different races on Facebook and then posted a video of a white woman being attacked by a black man; "This is why I would vote for FN," he wrote, referring to an far-right-leaning, anti-gay political party.
Out.com reports:
The magazine issued a statement on its social media platforms to condemn Chartraire's political views, saying "The fight against homophobia can't be separated from the fight against any other form of discrimination."
However, Chartraire will still be able to compete for the title of Mister Gay 2014, in December. "It's in his right to vote for FN, even if we don't share his beliefs," said Têtu editor-in-chief Yannick Barbe in a Facebook reply. "This is a beauty pageant, and our readers' vote was only based on a single criterion! He only stands for himself, and certainly not for the gay community. (Excluding him) would be censorship, and the best way to victimize him."
I believe it is safe to say that his good looks are trumped by a less-than-desirable attitude. Racism doesn't look good on anyone.
Photo via Têtu.