A Louisiana trio has been arrested and charged with enslaving and torturing a Minnesota transgender woman for two years, New York Daily News reports:
An assistant town marshal said he found the woman on Saturday night near an intersection in Natchitoches Parish with a logging chain wrapped around her body.
The victim told cops she'd been held against her will and forced to perform sex acts and do hard labor for her captors, KATC reports. She was taken to a local hospital, where she was treated for multiple lacerations and bruises. The logging chain had to be removed by Natchitoches firefighters.
Natchitoches Sheriff Victor Jones Jr. said this was the most "severe and disturbing" human trafficking case he'd ever investigated.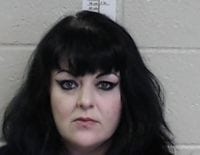 The three suspects – David Rodriguez Jr. (above), Christina Marie Harper (above), and Ambre Tubbs Lomas (right) – turned themselves in on Wednesday and face multiple charges of human trafficking, aggravated second-degree battery, second-degree kidnapping/false imprisonment, and offenses against computer users. 
Investigators learned that the victim had met Rodriguez and Harper online. She agreed to move into the couple's home and was promptly forced to hand over her cash and give up her motorcycle. She was then tattooed and registered as a slave on a website.
The victim says she was forced to do a daily list of chores that included sexual acts. In addition, she was required to serve meals, take care of pets, install a swimming pool, and remove fallen trees. If she didn't comply, she says she was brutally disciplined by Rodriguez, Harper, or Lomas. She claims she was beaten, tased, doused with urine. She also said she had letters carved into her body.
When she told the couple she wanted out of the arrangement, she was allegedly chained in the woods, fed once a day, and given small amounts of water and urine to drink.
The woman is now in protective custody. Two teens who were also living in the home were taken into the custody of the state's child protective services.