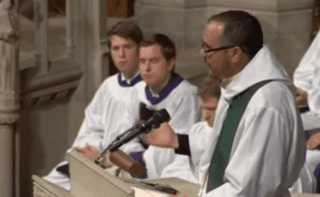 The first openly transgender to preach at D.C.'s National Cathedral spoke from the Canterbury Pulpit this past Sunday in celebration of the Cathedral's National Pride Month. A lecturer at Harvard University Divinity School and an Episcopal chaplain at Boston University, The Rev. Dr. Cameron Partridge is one of seven currently open trans clergy members in the Episcopal Church.
"As we behold one another in these days of celebration may we honor the way we sustain each other," Partridge said to congregants. "I am moved by how our decisions are calling us into deeper awareness of the mystery of the human person."
As a part of the Cathedral's efforts to further promote acceptance and openness, Sunday's service also included prayers and readings from members of the LGBT community. Reverend Gene Robinson, the Episcopal Church's first openly gay bishop, presided over the service.
"The message that indeed God loves God's gay, lesbian, bisexual, and transgender children is desperate needed to be heard," he said after the ceremony. "The most important person to hear the message of inclusion is that person who has been told for years at a time that God abhors them."
Listen to an excerpt of The Rev. Dr. Partridge's ceremony AFTER THE JUMP…