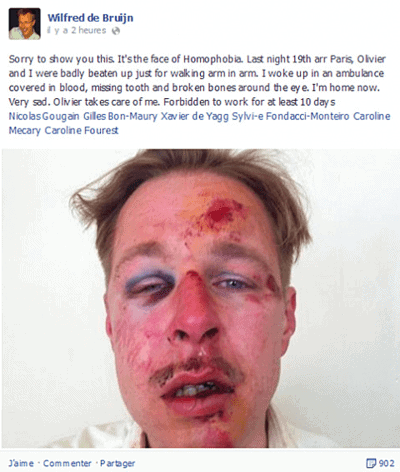 This photo of Wilfred de Bruijn's bloodied face made international headlines in 2013 after he was assaulted while walking arm-in-arm with his boyfriend in Paris.
The two men who attacked him were finally jailed, Dutch News reports:
Two Frenchmen were sentenced to 2.5 years in jail, with 12 and 18 months suspended, in Paris on Tuesday for beating up a gay Dutch man.
Wilfred de Bruijn, who lives in the French capital city, was walking home with his friend one evening in April last year when the two Frenchmen jumped him. During the attack, which made international headlines, De Bruijn was kicked in the face, suffering a broken tooth and cracks in his jaw and skull.
A man who witnessed the attack but did not help the Dutchman was given a six-month suspended jail sentence.