Following this morning's statement that the National Gay & Lesbian Task Force (NGLTF) dropped their support for ENDA, four more major LGBT rights organizations have followed suit.
Via the ACLU: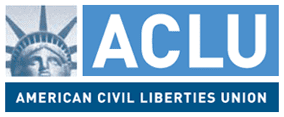 The American Civil Liberties Union today announced that it is withdrawing its support for the Employment Non-Discrimination Act in a statement also signed by Gay & Lesbian Advocates & Defenders, Lambda Legal, the National Center for Lesbian Rights, and Transgender Law Center. The ACLU objects to a provision in the bill that would allow religiously affiliated employers to continue to discriminate based on sexual orientation and gender identity.

"Federal legislation to protect LGBT people from workplace discrimination is way beyond overdue, but Congress has no place giving religiously affiliated employers a license to discriminate against LGBT workers," said Laura W. Murphy, director of the ACLU's Washington Legislative Office. "We can no longer support a bill that treats LGBT discrimination as different and somehow more legitimate than other forms of discrimination."

President Obama has announced his intention to sign an executive order that would ban discrimination against LGBT people employed by federal contractors. The ACLU opposes any inclusion of a discrimination exemption in this executive order.
Read their statement HERE.
Meanwhile, the Human Rights Campaign continues to support the troubling, flawed piece of legislation.
Said HRC Vice President Fred Sainz in an email: "HRC supports ENDA because it will provide essential workplace protections to millions of LGBT people."
In related news, 45 LGBT groups have written a letter to President Obama asking him to ensure that the executive order he has promised to sign barring anti-LGBT discrimination by federal contractors "not contain any exemption beyond what is provided by the Constitution and Title VII."