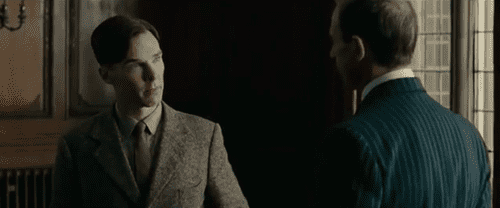 The first trailer for The Imitation Game, a historical drama focusing on Alan Turing, has dropped. Starring Benedict Cumberbatch as Turing and Game of Thrones's Charles Dance as Alastair Denniston, the film follows the story of Turing's recruitment into Britain's Government Code and Cypher School during WWII to decrypt Nazi communicae. Often thought of as the "father of theoretical computer science and artificial intelligence," Turing was responsible for many of the early examples of computer science, designing the Turing Machine, Automatic Computing Engine, and developing the very concept of the algorithm.
Turing, a gay man, was charged under England's 20th century indecency laws after openly acknowledging his ongoing relationship with Arnold Murray. An early version of a screenplay for The Imitation Game came under fire from Turing biographer Andrew Hodge, whose Turing biography serves as the basis for much of The Imitation Game's plot.
Hodges felt as if the film was in danger of downplaying Turing's homosexuality and emphasizing his relationship with Joan Clarke. Clarke, portrayed in the film by Keira Knightley, was briefly engaged to Turing before Turing is said to have come out to her. Their relationship, says Hodges, worked "because he could talk to her as if she were really another man," not because of any sort of genuine romantic interest. The trailer seems to make mention of Turing's inability to feel for Clarke romantically but that may be the film's sole mention of their relationship in those terms.
Watch the trailer for The Imitation Game AFTER THE JUMP…