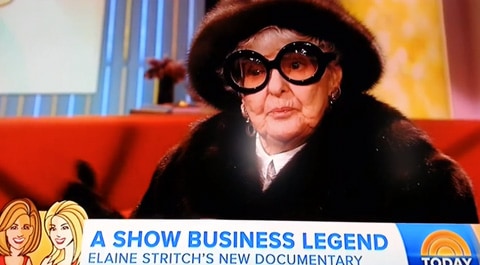 Elaine Stritch has died, the NYT reports:
Elaine Stritch, the brassy, tart-tongued Broadway actress and singer who became a living emblem of show business durability and perhaps the leading interpreter of Stephen Sondheim's wryly acrid musings on aging, died on Thursday at her home in Birmingham, Mich. She was 89.
Her death was confirmed by a friend, Julie Keyes. Before Ms. Stritch moved to Birmingham last year, she lived, famously, for many years at the Carlyle Hotel in Manhattan.
Stritch was recently the subject of a documentary called Shoot Me. Earlier this year, she became a viral sensation on the web after dropping a hilarious F-bomb on the Today show with Hoda and Kathie Lee.
Stritch also said recently that she was just becoming aware that she had a huge gay fanbase.
RIP.