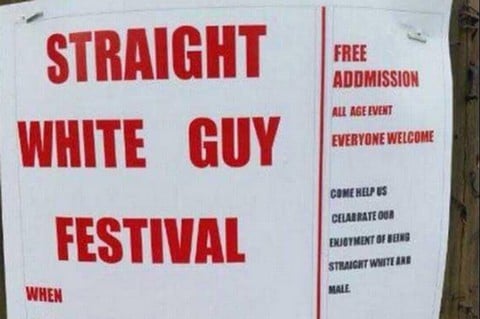 Misspelled posters advertising a "straight white guy festival" recently appeared near a gay-friendly neighborhood of Clintonville in Columbus, Ohio. The festival, ostensibly scheduled for September 20, will "celabrate [sic] our enjoyment of being straight, white and male" at Goodale Park.
The posters could be a hoax since city officials have reportedly received zero event permit requests for the park. 
The UK Mirror states:
The event has been taken by some as a homophobic backlash against the gay pride festival held at the park last month… Many have reacted with outrage, claiming every day is a straight white guy festival. Others have defended the unknown organisers, arguing that they have the same right to celebrate their sexuality and heritage as the LGBT community and other minorities.
In 2007, "straight pride" supporters marched in a Pride parade in Telluride, Colorado. Meanwhile, in 2011 the local government of Sao Paulo, Brazil approved a "straight pride day… protest against the privileges the gay community enjoys." 
But proponents of "straight pride" responses to gay pride events may want to consider CNN contributor LZ Granderson's thoughts on the matter:
Gay Pride was not born of a need to celebrate being gay, but our right to exist without persecution… So instead of wondering why there isn't a straight pride movement, be thankful you don't need one.