Right now, openly gay diver Tom Daley is competing in the 20th annual Commonwealth Games — the largest multi-sport event ever held in Scotland. So the BBC caught up with him to ask about his coming out and preparation for the games.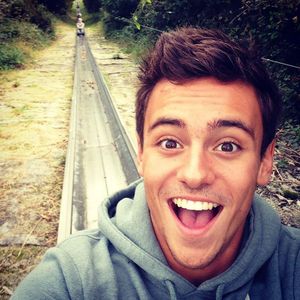 On coming out, Daley predictably said:
"The public support has been overwhelming. Everyone's been so nice." It is also, he adds, a "massive weight" off his shoulders.
"Right now, all I concentrate on is diving," he says. "I don't have any other worries. I'm happy with life, I'm happy with diving."
But less known is the the fact that Daley has been plagued with performance anxiety over a "demon dive" that nearly derailed his medalling at the 2012 London games:
Known as the 'back two-and-a-half somersault, two-and-a-half twists from the pike position', the dive involves Daley somersaulting backwards while twisting his body around, his head spinning just inches from the board he left a split-second earlier…
The first of his six dives in the Olympic 10m platform final, Daley's rhythm was disturbed when a camera flashlight went off in the arena…
Daley has just 1.8 seconds to complete each dive before he hits the water 10 metres below at 34mph.
He was allowed to retake it and achieved a respectable score, good enough for him to get on the podium at his home Games.
But from that day on, the dive was an issue.
At various stages over the last two years, he has used words and phrases like "phobia" and "trauma therapy" to describe his state of mind whenever he tries to perform it.
He has even enlisted the help of psychologist to address the issue. But, two years on, he still does not feel 100% comfortable with it.
In April, the dive misfired again and he missed out on a medal at a World Series event in London, in the very pool where the problems began…
The article also contains Daley's reply to those who claim that he spends too much time on his reality TV show appearances ("If I spent my whole life worrying about what people thought, I wouldn't be a diver and I wouldn't be where I am today.") as well as this interesting homo-sports nugget:
Daley is likely to face a major challenge from Australia's Matthew Mitchum, who won Olympic gold in Beijing in 2008, when they compete in the 10m platform in Glasgow later this week.