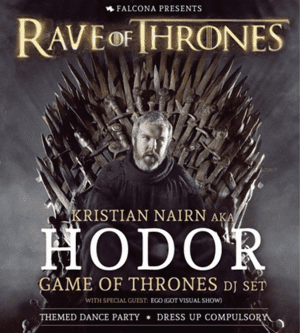 In the Rave of Thrones, you either dance, or you die.
Recently out Game of Thrones actor Kristian Nairn is inviting us all to a DJ tour throughout a number of Australian nightclubs promising "the deepest house [music] from all seven kingdoms."
Nairn, who plays the linguistically-limited Hodor on the HBO series, is a veteran DJ of the Belfast house scene known for his throbbing EDM beats.
The Rave, naturally, will be heavily Game of Thrones themed, with ravers strongly encouraged to dress in their finest Westerosi garb.
Nairn's rave marks the latest in a number of high profile musical collaborations driven by Game of Thrones's popularity. Following a cameo by Sigur Rós in the series' fourth season, HBO commissioned a full album's worth of Game of Thrones themed songs from the likes of Outkast's Big Boi, Common, and Wale. Tickets for the Rave are on sale now, with tour dates starting at the end of August.
Check out a selection of Nairn's electronic Soundcloud tracks AFTER THE JUMP…