A new survey conducted by brand expert Jeetendr Sehdev found that gay men between the ages of 18 and 54 favor celebrity endorsers who are smart, female, and mature, all qualities possessed by Ellen DeGeneres, who topped the list. Her Cover Girl ads in particular were chosen as the demographic's favorite of the past year.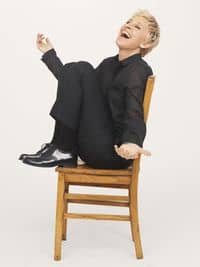 Around 3,000 participants were polled for the survey, and while Ellen was far and away the top-rated celebrity, other contenders included Angelina Jolie, Oprah Winfrey, Sandra Bullock and, rather surprisingly, Johnny Depp.
Variety reports:
Advertisers are increasingly eager to attract this consumer demographic. In 2013, Witeck Communications and Harris Interactive estimated that LGBT adults are armed with buying power of about $800 billion and would soon exceed 16 million in number.
Widespread popularity is one attribute that doesn't seem to be a major factor for this demo's approval, as Lady Gaga, Justin Timberlake, Hillary Clinton, Brad Pitt and Channing Tatum were identified as this group's least admired celebrities.
The survey entailed asking gay males to name the three celebrities they most and least admired. Results were then assigned an index number and converted to a 100-pt scale, helping illustrate how these chosen celebs stack up against each other.
Respondents were also asked about their admiration for openly gay celebs. The top five were Degeneres, Jane Lynch, Rosie O'Donnell, Tim Gunn, and Cynthia Nixon while the lowest scores went to Ricky Martin, Portia De Rossi, Adam Lambert, Zachary Quinto, and Lance Bass. 
Head over to Variety for more statistical breakdowns and infographics.