Former Prison Break actor Wentworth Miller has opened up in an interview with Details about his life post-coming out. After seemingly taking a break from the public eye, Miller took time to pen the screenplay for Stoker using the pseudonym "Ted Foulke."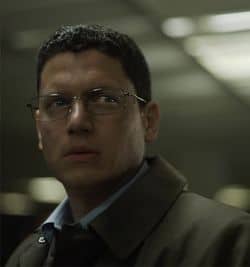 "That wasn't about protecting my identity — I just wanted the scripts to sink or swim on their own." Miller explained to Movieline in 2010. "I thought seeing my name on the cover might create static of some kind, maybe positive, maybe negative, but it just wasn't something I wanted to factor into the equation."
Since Stoker's release, Miller's kept a relatively low-profile life focusing on his personal life and getting involved the ManKind Project, a modern manifestation of the mythopoetic men's movement. The group, which is often thought to be a large group awareness training organization, played a large role in helping Miller deal with his life-long struggle with depression.
"It's a circle of men I sit in with every week that's a safe sounding board for whatever's up for me: good, bad, ugly, really ugly." He said of the group. "With sadness, particularly with men, that conversation is unfamiliar."
As the release for the actor's latest film The Loft looms nearer and the actor prepares for his latest role as the The Flash's Captain Cold, he remains confident that his revelation about his sexuality won't impede his ability to appeal the large fanbase that had previously known him to be a straight man.
"Attraction is fluid, and I think our imaginations are strong enough to hold a container for all of this complexity, even if we know on a subconscious level something's not what it appears to be."
Watch the trailer for Wentworth Miller's upcoming film The Loft AFTER THE JUMP…