The U.S.'s oldest gay bookstore, Giovanni's Room, is officially reopening for business under new management after months of speculation that the store would be closing for good Publisher's Weekly reports. Last fall current owner Ed Hermance announced that after 40 years of operation, he was looking to sell.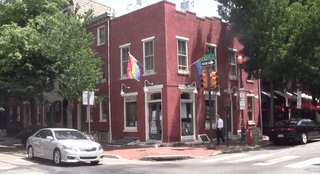 "I've been looking for a successor for 25 years," Hermance told Publisher's Weekly in 2013. "It just can't go on like this."
Hermance, who did not collect a paycheck as proprietor of Giovanni's Room, ran the business at a loss and ultimately opted for retirement. Hermance alluded to being involved in talks to sell the bookstore late last year, but details and a timeline as to the store's future were few and far between.
The name of the LGBT organization responsible for the purchase of Giovanni's Room has yet to be released, pending the signing of agreements transferring ownership of the organization, but the store is scheduled to reopen this fall.
1973 Tom Weinberg, Dan Sherbo, Bern Boylethe founded Giovanni's Room in the heart of Philadelphia. In the years since its opening the bookstore has become a cultural mainstay both for Philadelphia's gay community, but also for those visiting the city and looking for a jumping off point. The 3,000 sq. ft. store is staffed entirely by community volunteers, and Hermance has expressed his desire to remain similarly involved after the lease is signed over August 1.