In 2010 a baby girl born to an HIV-positive mother made headlines after seemingly being cured of the virus thanks to a swift treatment of antiretroviral therapy immediately following her birth. "The Mississippi Baby," as she came to be known, was a triumph, giving the medical community insight into the potential future of treating infants born with HIV. Unfortunately the baby, according to her doctors, has come out of remission and is now showing detectable signs of the virus once again.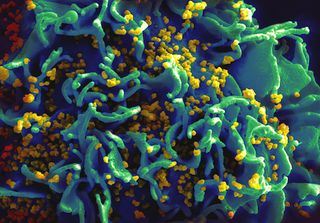 "Certainly, this is a disappointing turn of events for this young child, the medical staff involved in the child's care, and the HIV/AIDS research community," said Dr. Anthony Fauci, director of the National Institute of Allergy and Infectious Diseases. 
Following a strict regimen of antiretroviral treatment for 18 months, blood tests for the child came back with undetectable viral loads. In the months following, the child was taken off the intense medication, seemingly maintaining her HIV undetectable state.
"Scientifically, this development reminds us that we still have much more to learn about the intricacies of HIV infection and where the virus hides in the body." Dr. Fauci elaborated.
The return of the virus in her blood, while heartbreaking, was not entirely unexpected. Unknowingly HIV-positive, the baby's mother did not take proper medication while pregnant with her child. The fact the baby managed to remain seemingly HIV negative for so long without medication suggests that initial efforts to treat the virus were on the right track, but not perfected, according to her doctors. She has since been put back on antiretrovirals, with doctors hoping to maintain the virus once again.