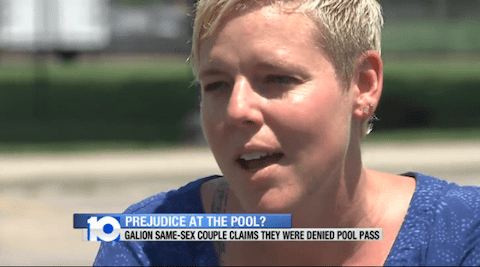 The Heise Park Pool in Galion, Ohio is a popular destination for residents during the summertime and offers a discounted pass for families. Melody Mohn and her wife applied for a Family Pass so that they could take their three children swimming, but were denied and told that the city ordinance defines a family as a mother, a father, and up to three children.
Normally this is where the story would bring up a lawsuit being filed, possible involvement by the ACLU, and a divided community. Instead, Mohn started an online petition, wrote to the mayor, and brought up the issue at a city council meeting to discuss a change in the wording of the ordinance. Mohn's pleas did not fall on deaf ears, and while it doesn't seem likely that change will happen in time for this summer, City Council Member Sarah Capretta said:
They want to make sure that they word [the ordinance] properly so that it can include more people in the city of Galion. We have a lot of grandparents taking care of grandchildren, aunts and uncles taking care of nephews and nieces and we want to make sure that we include all of those people to make everybody eligible to be able to use the facility because that is what it is there for.
You can watch the WBNS-10TV report AFTER THE JUMP…